Historic Perrenoud Ranche a lightning rod for good
COFFEE WITH WARREN, with Warren Harbeck
Cochrane Eagle, September 19, 2007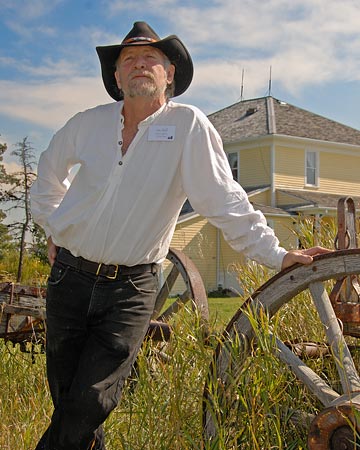 Stan Phelps, resident director of Perrenoud Ranche Art Centre northwest of Cochrane, stands outside the historic building, the 'Pennwood Randie' lightning rods behind his shoulder. Photo by Warren Harbeck
Have you ever heard of Pennwood Randie lightning rods? Well, I hadn't, either – that is, not until the other day when my quest took me on a fresh discovery of Alberta foothills history and art.
It all began with the unveiling of "Trust," the Mural Mosaic of Cochrane heritage about which I wrote in last week's column.
Speaking of which, it was good to see so many of our coffee companions at the Cochrane RancheHouse for the unveiling. The foyer was packed, the food great, and the participation wonderful.
One of our readers on the scene was Leo Peters. Leo dropped me a note the next day:
"Wow!" he wrote. "What a great project for the town." It demonstrates "the power of synergy. When we work together for common goals, we always produce more then we could have through individual effort. 1+1=3."
Leo pretty well captures the feeling of everyone who has approached me about the evening. "Trust" has become a lightning rod for good in both production and appreciation.
Which brings me back to my quest for Pennwood Randie lightning rods. You see, "Pennwood Randie Lightning Rods" was the title of one of the mosaic panels as it appeared on the summary sheet of contributing artists. The picture was of a two-storey farmhouse, a pair of lightning rods on its roof, set against a threatening sky. The artist was painter/printmaker Stan Phelps, whom I was soon to meet.
I knew what lightning rods were, but who or what was "Pennwood Randie"? Far too many minutes spent Googling gave me no satisfaction.
With that mystery still teasing my mind, my wife, Mary Anna, twisted my arm into attending a weekend art exhibition and sale at the Perrenoud Ranche Historic Site northwest of Cochrane. I'd never been there before, but when I heard there would also be a pie-baking contest, I was on my way.
The picturesque pioneer ranch was bequeathed to the Province of Alberta some time ago, and for the past few years The Cochrane and Area Heritage Association has been restoring its 1910 farmhouse for use as a museum and cultural centre. (For a photo tour of the ranch, go to muralact.com/Perrenoud/.)
When we arrived I was immediately greeted by two surprises: a very-familiar-looking two-storey farm building with lightning rods on its roof, and artist Stan Phelps, the facility's resident director.
"This is the same building you painted for your Cochrane mosaic panel, isn't it?" I said.
Stan replied that indeed it was.
"Why the focus on lightning rods?" I asked.
"I was coming up from the garden and saw storm clouds gathering beyond the roof," he said. "The lightning rods for me are symbolic – a last line of defense; you're glad you've got them. In view of grander forces, the lightning rod represents acknowledgement of the grace that protects us."
"So, why do you refer to the lightning rods as 'Pennwood Randie'?" I asked.
"'Pennwood Randie'? Never heard of that before," he said.
I showed him the list of Cochrane mosaic panel titles.
"Oh," he chuckled. "They misunderstood. What I intended was 'Perrenoud Ranche Lightning Rods'!"
Mystery solved, but what a wonderful pair of lightning-rods-for-good it led me to.
© 2007 Warren Harbeck
JoinMe@coffeewithwarren.com