Some thoughts on embracing change in life's journey
COFFEE WITH WARREN, with Warren Harbeck
Cochrane Eagle, August 1, 2007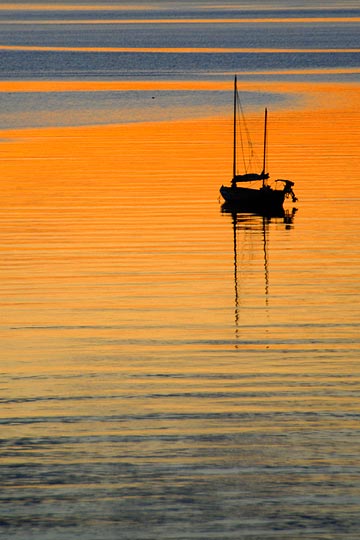 One day's sunset is the promise of a new day's sunrise. Photo by Warren Harbeck
Coffee companion and former newspaper editor David Forbes, responding to last week's column on photographer/priest Fred Monk's move from Cochrane to southern Alberta, made an important observation: "Sometimes the path along life's journey feels good and steady and comfortable," he wrote, "when something changes and the journey continues in a different direction."
David's comment got me thinking about a part of life we all face and on which the wise down through the ages have long reflected.
Change is inevitable and seldom easy, of course, but how we handle it makes all the difference in our wellbeing. Our attitude toward change is about personal choice. As the renowned mythologist Joseph Campbell once said: "We must be willing to get rid of the life we've planned, so as to have the life that is waiting for us."
The French writer Anatole France put it this way: "All changes, even the most longed for, have their melancholy; for what we leave behind us is a part of ourselves; we must die to one life before we can enter another."
That melancholy tempts us to hold tightly onto what we're used to.
For, as another French writer, Anais Nin, explained: "Life is a process of becoming, a combination of states we have to go through. Where people fail is that they wish to elect a state and remain in it. This is a kind of death."
We are happy with the familiar. But as English playwright and novelist Charles Langbridge Morgan asserted: "The art of living does not consist in preserving and clinging to a particular mood of happiness, but in allowing happiness to change its form without being disappointed by the change; for happiness, like a child, must be allowed to grow up."
Or, as Shakespeare put it: "We know what we are, but know not what we may be."
Yet fear of what we might become can rob us of some of the greatest joys and adventures of our entire lives.
The classic examples of the butterfly and dragonfly come to mind. Would they really be happier spending their entire life crawling along the ground as a caterpillar or mucking around in the lakebed as a grub? Hardly! Their destiny is to fly in the freedom of the air, and in so doing bring delight to all the creation. As the saying goes, "If nothing ever changed, there'd be no butterflies."
"Change is the law of life," said former U.S. president John F. Kennedy, "and those who look only to the past or present are certain to miss the future."
One of my favourite natural metaphors for moving from the past to the future is a seascape at sunset and sunrise. For one day's sunset is the promise of a new day's sunrise, and life's journey continues.
Coming back to David Forbes' comments on photographer/priest Fred Monk's move, David wrote: "Now he will have a chance to focus his lenses on some new sites – a whole new landscape – in the Bow Island and Foremost area and share his insight with his new flock."
And as he experiences the "whole new landscape," perhaps he will also share with the rest of us back here in Cochrane lessons learned so that we, too, may grow in wisdom of the way.
© 2007 Warren Harbeck
JoinMe@coffeewithwarren.com