New gallery gives access to soul of Mountain West
COFFEE WITH WARREN, with Warren Harbeck
Cochrane Eagle, November 22, 2006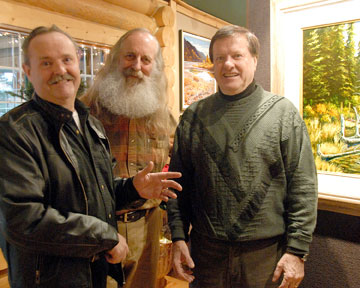 From left to right: Artists Rick Berg and Murray Phillips chat with Ron Sigurdson, owner-operator of Cochrane's newly-opened Rustica Fine Art Gallery. In the centre background is Berg's "Nature's Surprise." At the right is Phillips's "Clearwater Crossing."
Cochrane has become a western Canadian centre for artistic creativity and celebration. Whether through music, writing, the performing arts, or the visual arts, our town is developing a worldwide reputation for its interpretations of prairie, foothills, Rocky Mountain and West Coast themes.
Rustica Fine Art Gallery, located in Rustic Market Square, is the latest addition to our creative community.
I paid a visit to their grand opening last Saturday and was immediately gripped by the original works of several local artists (Shannon Luyendyk, Lisa Wirth, Rick Berg, Ann Perodeau and Lori Pullman-McDonald) and members of The Western Lights Group (Roger D. Arndt, Jonn Einersson, Murray Phillips, Brent Heighton and Vance Theoret).
Ron and Marie Sigurdson are owner-operators of Rustica. Of the quality of art they are featuring Ron said, "We found a real need for high-end art in Cochrane." A quick look through comments in their guestbook confirmed Ron's assessment: "Impressive!" "Wonderful!" "Wow!"
I had the special privilege of speaking one-on-one with three of the artists on hand for the opening, each a lover of autumn in the Rockies and each deeply moved to commit their impressions to canvas.
Lisa Worth, of Cochrane, has been painting since 1972, mostly in acrylics. Her style is contemporary, expressed through simple, big shapes. Her favourite theme is mountains, she said.
"When I first came from Ontario, the mountains really intrigued me."
Likewise intrigued by the mountains, Rick Berg, a Crossfield artist committed to realism, has travelled western Canada for the past 30 years capturing our land at its inviting best. "It's just something I have to do," he said.
Murray Phillips, also a realist, is from Langley, B.C. His passion for place – both human and natural – has been informed by his scholarly background in theology, anthropology and archaeology, but has found its best expression in painting, he said.
He left his academic post some years ago to devote himself fully to his artistic calling. Three to four months a year he's deep in the wilderness with horse, chuckwagon and tent.
Pointing to "Clearwater Crossing," a 24 × 36 inch oil on canvas he painted at the beginning of autumn a year ago, he said, "There is an intense urgency to paint, as if something important needs to be said, and I can only say it with brush and canvas."
All three artists have this in common: a sense of spiritual duty inspired by sacred beauty. Indeed, respect for this principle is very much what I experienced with all of the Rustica collection.
---
Which brings me to my postscript to this week's column.
The stirring "Hallelujah Chorus" is solidly associated with this season of the year. Some would even regard this masterpiece from Handel's 18th-century oratorio, Messiah, as the most sacred anthem of Western Christianity. Hearts are stirred at its performance; audiences stand in reverential awe. It is the profound celebration of Jesus as "King of kings, and Lord of lords, and he shall reign for ever and ever ... Hallelujah..." – unequaled in His majesty; unsurpassed in His glory!
So tell me, my coffee companions – even those of you not from Christian traditions – am I the only one offended when the "Hallelujah Chorus" is played to celebrate the Stanley Cup? Or when it is used to advertise WestJet? Or when video lottery terminals blast its melody when someone hits the jackpot? Tell me, please, because maybe I've misunderstood that that which is sacred in all traditions should not be subject to such shameful abuse.
© 2006 Warren Harbeck
JoinMe@coffeewithwarren.com