Inter-community friendships start with shared humanity
COFFEE WITH WARREN, with Warren Harbeck
Cochrane Eagle, June 28, 2006
Throughout Alberta, the past week has been a time dedicated to improving Aboriginal awareness. Here in Cochrane, special emphasis has been placed on getting better acquainted with our neighbours to the west. Through arts, crafts, music, dance and storytelling, members of the Stoney Nakoda First Nation, at Morley, have shared their culture and kindness with Cochrane folks who have longed to see closer ties between our two communities.
And for this, the organizers and participants deserve a vote of thanks.
Such improved relationships do not have to depend on one week a year, however, nor does friendship with a person of Aboriginal ancestry necessarily require performances with drums, feathers and bells.
It might require nothing more complicated than a bench, a listening heart, and recognition of our common humanity.
This was made abundantly clear to me some years ago by Henry Holloway, then chief of the Chiniki Band of the Stoney Nakoda First Nation.
It was a beautiful late-June Saturday morning at Cochrane Ranche, and folks from throughout the Bow Valley were gathered for the Cochrane Aboriginal Recognition Event. Tepees from Morley were set up, and similar to this past week's celebrations, music, dance and getting to know each other were the agenda for the day.
Lydia Graham, Cochrane mayor at the time, was on the grounds and happened to notice Henry Holloway's arrival. She greeted him and invited him onto the speaker's platform to say a few words.
He had no prepared speech to read, nor did he mount the platform with anything other than the down-home-on-the-ranch manner of someone who loves horses, cattle, the open range, and most of all, people.
Looking around at all the families sitting on the lawn in front of him, he began reminiscing about how the old-timers used to sit together on the bench outside the saddlery shop along Cochrane's main drag. There were ranchers from the Jumping Pound area and from north and west of Cochrane. And yes, some were from Morley, too. They'd be comparing ropes and the latest news on livestock auctions, and so forth.
"But they weren't sitting there as wasijubi – 'White people' – at one end of the bench, and as Îyethkabi – 'Stoney Indians' – at the other end," he said. "They were together on that bench just as wîchastabi – just as 'human beings' who were enjoying each other for what they shared in common."
And that was the challenge Henry gave to us that morning: to enjoy each other as individuals because of what we have in common – our common humanity.
As I think back on Henry's words, I'm reminded again of lines from Louis Armstrong's signature number, "What a Wonderful World" – the unofficial theme song of this column:
The colors of the rainbow
So pretty in the sky
Are also on the faces
Of people passing by
I see friends shaking hands
Saying how do you do
They're really saying
I love you.

---
Mentioning Satchmo's song reminds me also of a Cochrane coffee companion who has taught me so much about jazz. Laurie Hiscock, the silver-haired guy behind the Sears Catalogue desk in Cochrane, will soon to be moving to Ontario, together with his wife, Jo-Anne. I will miss my mentor and friend.
Finally, I was taking in my wife's garden the other day and came across a pair of daisies that seemed a great way to celebrate our 43 years of marriage together. Happy Anniversary, Mary Anna!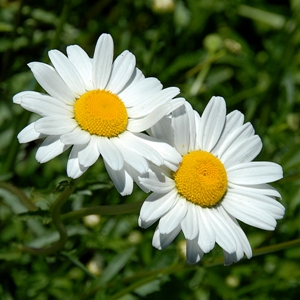 A pair of daisies in Mary Anna Harbeck's garden wish her a Happy Anniversary. Photo by Warren Harbeck
© 2006 Warren Harbeck
JoinMe@coffeewithwarren.com