Photo-essayist honours Aboriginal view of the North in book
COFFEE WITH WARREN, with Warren Harbeck
Cochrane Eagle, March 22, 2006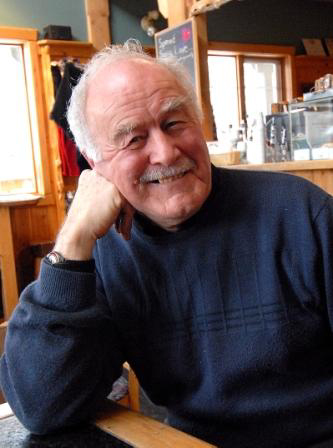 Author/photographer Terry Garvin will be returning to Cochrane for a book signing March 25. Photo by Warren Harbeck
The Cree elder placed the bowl of smoldering sage, sweetgrass and aromatic wood chips in the centre of those gathered in the bookstore. This was a sacred moment, a time of reverence for the stories and faces of his people, a time to respect the Creator's gift of wisdom. Before the first book could be opened, before the first volume signed, those present would have their hearts and souls cleansed through the ancestral tradition of smudging.
The elder was one of several dozen Aboriginal people from northern Alberta communities – Grand Cache, Hinton, Calling Lake, and elsewhere – who had made the long journey last week to an Edmonton bookstore to pay tribute to a storyteller entrusted with the heartbeat of their people.
They had come for the launching of coffee companion Terry Garvin's latest book, Carving Faces, Carving Lives: People of the Boreal Forest.
Terry makes Calgary his home now, but spends many of his best hours each week in Cochrane's coffee shops, where I sit enthralled as he recounts the ways and words of Canada's First Nations peoples who have taught him so much about the meaning of life and respect for the land.
He began his journey into the traditional ways of First Nations people in 1951 when, as a member of the RCMP, he settled into the first of his postings in northern British Columbia, the Northwest Territories, and northern Alberta. He has also worked in community development and human rights. Since the early 1990s he has been a consultant to First Nations community researchers documenting their traditional cultural knowledge.
In Carving Faces, Carving Lives Terry has drawn from his skills as a photo-essayist to bring together 50 years of firsthand experience with his mentors in the Aboriginal way. Readers enter into his experience of wizened faces of wise elders, lifestyles of home and camp, arts and crafts, the natural world, and traditional means of travel, especially by dog team and canoe.
But "I'm not in the book," Terry insists. The book is not about him, but about the people with centuries of knowledge and skill who understand the land and their relationship to it.
"This is a down-to-earth realistic documentation of that knowledge," Terry says, "captured by someone who, firstly, feels privileged to have been there, and secondly, has been given the opportunity to present the material in a way that truly honors the people and the culture they represent. This story is original source, from the people in the production."
A very useful glossary has been included to clue the reader in to the unique meanings of northern expressions. For instance, a "reefer" is a walk-in cooler built for community food storage; it's not something you smoke. And did you know that "crackling," also called "Indian popcorn," is "a sweet and crunchy snack made when the stomach cape of a moose is rendered to remove fat and then dried"?
This is a book I will long want to browse through over a cup of tea or coffee and daydream about the life reflected in its pages – to flip at random to an image of a meandering river, or a braid of sweetgrass, or "'Granny' Powder harvesting blueberries at the age of 93," or a group of men from Fort Rae ready to take their winter haul of fish the 65 km back to the reefer for later distribution to members of the community.
Thirteen years in the making, Carving Faces, Carving Lives is published by the Heritage Community Foundation, of Edmonton. In addition to the book, the publisher has produced a valuable website featuring photographs, video clips and readings from the book. Go to www.albertasource.ca and click on Featured Site – and be sure to check out the site's Image Gallery.
Westlands Bookstore in Cochrane will be hosting a book-signing from 2 to 5:30 p.m., March 25. Meet Terry Garvin in person and see for yourself why First Nations people of the North would travel so far to honour a photo-essayist who has travelled so far in his own life to honour and respect them.
© 2006 Warren Harbeck
JoinMe@coffeewithwarren.com