Man with the lens sees all
COFFEE WITH WARREN, with Warren Harbeck
Cochrane Eagle, December 28, 2005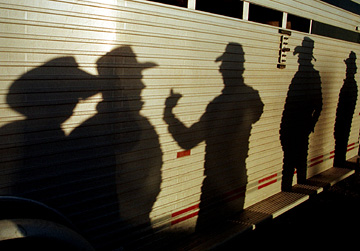 Cochrane photographer Patrick Price, camera ever at his side, caught the end-of-the-day shadows of these five ranchers against a cattleliner.
Five ranchers spin yarns in the setting sun, their shadows animated against the side of a cattleliner. Because that moment was captured by Cochrane photographer Patrick Price, "the shadow of [their] smiles will color all [our] dreams and light the dawn," as that hit song of the 1960s goes.
Readers of the Cochrane Eagle are loyal fans of Patrick's work. His full-page colour images of life in the foothills west of Calgary have graced the covers of this paper since its first issue back in 2001.
Thanks to Patrick's keen eye, we've been treated to a fishermen hoping to catch that trophy trout in the Bow River, an eagle searching for dinner from on high, the excitement of a touchdown by the Cochrane High Cobras, frosty cattle drives against snow-capped mountain vistas, old-time ranchers tucking into "prairie oysters" during spring cattle branding, a school bus dropping off kids while a pair of horse-and-riders watch on, harvesting hay against a dusty sunset backdrop, and a veteran's tears on Remembrance Day.
And then there's that classic shot of the late Milt Wasylenko shoveling a walk, an emotion-packed photo Patrick took of Cochrane's pipe-smoking man-about-town through the spokes of Milt's trusty bicycle.
Patrick, 48 and a professional photojournalist for going on 25 years, moved to the Cochrane area in 1990 because of his love for our friendly rural ways.
His primary camera is a digital Canon 1D. His favourite lens is Canon's legendary 300 mm f/2.8 telephoto. He likes compressing subjects, he says, and he almost always shoots hand-held. (His steady hand is enough to make other photographers green with envy.)
He has helped build Cochrane's positive international reputation through his photos published around the world by Reuters news service. For samples, go to Reuters' Web site, www.reuterpix.com/photos, and follow the links.
I spent a pleasant afternoon over coffee with Patrick earlier this year. Opening his laptop computer, he took me down memory lane through his vast collection of foothills-Alberta images, especially his shots of the grain elevators that once dotted our landscape – and of the late "Mac" MacKenzie, artist whose Men of Vision horse-and-rider statue gazes west from its hilltop viewpoint at Cochrane Ranche.
"We've been blessed being in Cochrane," the award-winning photographer told me, "not just fortunate – blessed!"
Patrick has a special love for rodeo and cattle drives.
"I do lots and lots of rodeo," he told me. "I love covering rodeo. Rodeo is the one thing that reflects rural mentality – how they work, how they play."
His coverage of cattle drives has built bridges across cultures, whether with the Stoney First Nations at Morley, or with Hutterites.
On one horse roundup, he froze the moment when a dozen Hutterite women in black and white polka-dotted bandanas and long blue dresses stood along the trail singing to the cowboys as they passed near their colony.
"The Hutterites just wanted to see the cowboys moving 200 bronc horses from the ranch near Calgary, 206 kilometres in six days," he figured.
Patrick always tries to get people in his pictures, he said – "for scale and relationship."
And when he looks through his lens, he doesn't just see his subject, he said. He witnesses it. And in so doing, he helps the rest of us see ourselves and the shadows of our heritage more clearly, more stunningly.
That's certainly the experience of Cochrane writer Stephen Gobby. He first met Patrick on a beautiful Sunday afternoon back in April 1998.
"I was out riding on Cochrane Lake Road when a man pulled up in a small station wagon and asked if he could take a photo," Stephen reminisced with me not long ago. "He said his name was Patrick Price and that he was a freelance photographer. I told him to go right ahead. I also asked if I might get a copy of the photo as a souvenir.
"Later that week, the photo appeared in the Calgary Herald under the caption 'Cowboy's Dream,' explaining that I had retired from the police out east and I had moved to Alberta to live out my dream."
True to his word, it wasn't long before Patrick gave Stephen a copy of the photo. Stephen had it scanned into a silhouette that became his personal logo. It appears on his riding clothing as well as on his truck and horse trailer.
"I will always be grateful to Patrick," Stephen said. "His simple gesture that day added a great deal of pleasure to my life."
Yes, and Patrick's photographic gestures have certainly added a great deal of pleasure to my life, too. To paraphrase lines from "The Shadow of Your Smile," the song I alluded to at the beginning of this column:
Look through Patrick's lens, my friends, and see
All the lovely things our world can be.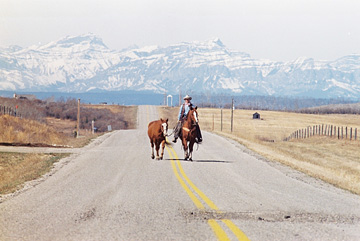 Patrick Price made a friend of Stephen Gobby when he photographed the Cochrane writer out riding, the snow-capped Canadian Rockies adding to the breathtaking Alberta moment.
© 2005 Warren Harbeck
JoinMe@coffeewithwarren.com