Foundation key to parenting
COFFEE WITH WARREN, with Warren Harbeck
Cochrane Eagle, August 24, 2005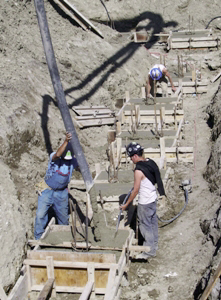 Workers pour footings for new St. Mary's Catholic Church on south side of Cochrane earlier this summer. Buildings, no matter how beautiful they may otherwise appear, cannot endure the years without solid foundations.
– Photo by Warren Harbeck
A good foundation is as important for raising our children as it is for building churches, bridges, towers and houses.
I got to thinking about this recently while photographing construction of Cochrane's new St. Mary's Church south of the Bow River.
I was amazed at the months of meticulous work that was going into reinforced concrete footings, columns and walls deep in the ground where no one would ever see them once backfilling was complete.
I chatted with coffee companion Mike Simpson about this. Mike's the chair of St. Mary's building committee. He's also a retired structural engineer whose former firm's portfolio includes such impressive projects as the Calgary Tower and the Confederation Bridge.
The Confederation Bridge extends nearly 13 kilometres (8 miles) across icy ocean water between Prince Edward Island and New Brunswick, the longest bridge of its kind in the world. When you're driving 40 metres (130 feet) above the water, it's nice to know pack ice ramming into one of the bridge's 44 piers equipped with specially designed steel-reinforced conical ice shields isn't going to send you plummeting into the sea. Thank you, Mike.
As for the Calgary Tower, it stands over 190 metres (630 feet) tall, with footings going more than six metres (20 feet) into the ground. Its nine-metre (30-foot) wide footings account for well over half the weight of the entire tower and, according to Mike, consumed about half the project's total construction time.
That's comforting to know when you're on the observation level at the top of the tower and the wind starts blowing.
When constructing foundations for structures like that, there's no place for inferior workmanship. Design flaws get corrected. Cement that fails to meet standards is rejected. What good is it to build a great cathedral, only to have it collapse because its foundation wasn't strong enough to support its weight?
And then there's the Leaning Tower of Pisa.
Of course, it's not just big projects that demand good foundations. All of us who have ever had a basement wall or floor crack and leak in our homes also understand their importance. And when the drywall in our living room develops an ugly crack due to a poor foundation, we hit the roof.
And rightly so, because we expect excellence from contractors entrusted with building the single biggest financial investment most of us will ever make.
Even more so with our children. They are the most precious treasures entrusted to us, more valuable than any church, or tower, or bridge, or house. Indifference and carelessness in laying a foundation for them is unacceptable.
To us as parents falls the awesome responsibility of equipping our children with vision and values fit for a lifetime.
© 2005 Warren Harbeck
JoinMe@coffeewithwarren.com