Each of us can be a refuge in a time of storm
COFFEE WITH WARREN, with Warren Harbeck
Cochrane Eagle, July 27, 2005
The bright, billowy cloud rose ominously in the northeast beyond the Big Hill an hour-and-a-half before sunset July 20. The roiling mass of mayhem mesmerized me as I exited my car, camera in hand, in the safety of the Cochrane Towne Square parking lot.
But others in neighbouring towns and farms were running for shelter, their crops and property under bombardment from golf-ball-sized hail, and radio and TV stations broadcasting warnings of possible tornadoes.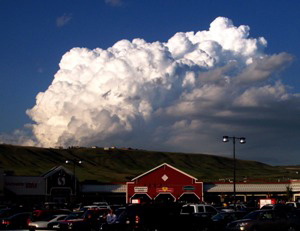 Cumulonimbus cloud grows into a roiling giant northeast of Cochrane the evening of July 20, awesome in its beauty, devastating in its destructive power. Photo by Warren Harbeck
The next day over coffee with Phil Jones, of Canmore, I brought out a photo of the cloud. This led into a discussion of refuge during the storms of life.
Phil and his wife Steph operate a bed and breakfast in the mountain resort town west of Cochrane. Originally from Harlow, England, the pair moved to Alberta two years ago.
He spoke of one houseguest who told them, "Your home is a safe house in a dangerous world."
That meant a lot to Phil, who – like myself – is a great fan of the Psalms, where God is often referred to as a refuge in life's storms. Phil alluded to the beginning of Psalm 91:
"You who live in the shelter of the Most High, who abide in the shadow of the Almighty, will say to the Lord, 'My refuge and my fortress; my God, in whom I trust.'"
"People are looking for safe places," Phil said. "In ancient times there were cities of refuge. Today we can offer our homes as houses of refuge – and our lives as people of refuge."
Folks long to meet people who are trustworthy and genuinely caring, he said. Such people of refuge are found in the midst of life's everyday activities – out shopping, or at a table in a coffee shop. In their presence is found peace and safety.
Toward the end of our conversation, Cochrane poet Colette Broder and educator Cindy Zampa joined us, listening to what Phil had to say. The next day Cindy sent me an email describing a dream she'd had a week earlier, significant, she felt, in the light of Phil's remarks.
The dream was of a lush, forested place away from a dry, dusty trail – "a refuge for people who have nowhere else to turn in a time of crisis," a place characterized by love, peace and hope.
"I have placed the words 'love', 'peace' and 'hope' above the entrance to my home," she said. "It serves not only as a source of inspiration for me to mindfully create a home that is filled with love, peace and hopefulness, but also as a reminder to me:
"Even though we live in an unsafe world, we each have the capacity to bring love, peace and hope into it."
© 2005 Warren Harbeck
JoinMe@coffeewithwarren.com