Morley artist has fond Father's Day memories
COFFEE WITH WARREN, with Warren Harbeck
Cochrane Eagle, June 15, 2005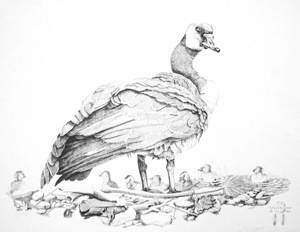 Morley artist Roland Rollinmud has captured the bond he had with his father, and now has with his own children, in his 1996 pen and ink, Gift of Beauty Ð Gander and Goslings.
Roland Rollinmud loves to speak about the special parent-child bond he has enjoyed throughout his life.
The 54-year-old artist from Morley captured that bond in his 1996 pen and ink Gift of Beauty – Gander and Goslings, his interpretation of the moment when seven goslings are making their first hesitant venture into the water at the feet of their vigilant, proud father.
When Roland discussed the pen and ink with me upon its completion, he reminisced about his relationship with his own seven children.
The other day he reminisced with me once more, but this time over his relationship with his father, the late George Rollinmud, also of Morley.
"How blessed I feel and very thankful for being given a father who had compassion, dignity and patience," Roland began.
The father of 14 never went to school, Roland said. But George had knowledge and wisdom. He knew the way to track animals and raise cattle. And he knew the way to guide his children.
"He was a quiet person," Roland said. "He would talk to me about what was distracting me. He got me to open up my mind so we could really get into a discussion of what's bothering me. At the same time, he would stroke my hair. I would feel very comfortable – very comfortable.
"He was very respectful of us."
George advised his son to be a rancher, Roland said. "And I tried it. But that wasn't me. There's something else I'd like to try out," Roland told his father. "I met a man who showed me how to do art." (That man was the Stoney Nakoda artist Sitting Wind, the late Frank Kaquitts, of Morley.)
"He said, 'By all means do it, if it will provide your bread and butter.' He encouraged me," Roland remembered.
"He died while my application to the Banff School of Fine Art was being considered, and I began that fall."
George was 74 when he passed away in 1984. Early that day Roland dropped by his father's house for a visit.
"He asked me, 'How old are you now?'" Roland said. "I told him, '34.' 'You have done well,' he said. 'I've done my job. I am satisfied.
"'But you know, you must remember one thing that isn't yours yet,'" Roland's father continued. "'I still have the right for one thing: to tell you what's wrong and what's right. You're my responsibility.'"
Shortly thereafter his father was gone. Now, Roland said, the responsibility for guiding the next generation fell to him.
Roland has expressed the spirit of that paternal responsibility in a paragraph accompanying Gift of Beauty – Gander and Goslings. I'd like to close with it as a tribute to the dreams and responsibilities of all fathers:
You, my children, are the flock that God has entrusted to me. Soon all of you will be soaring with me above lakes and mountains in that great journey of life. We will rest along distant shores, enjoying the goodness of God and our love for each other. Your happiness will be my happiness, and your hope my hope. And your own joy in the journey will be my greatest honour. Learn with me, fly with me, and let us rejoice in the beauty of life together.
© 2005 Warren Harbeck
JoinMe@coffeewithwarren.com