Columnist's stuffed animals warm the heart
COFFEE WITH WARREN, with Warren Harbeck
Cochrane Eagle, February 9, 2005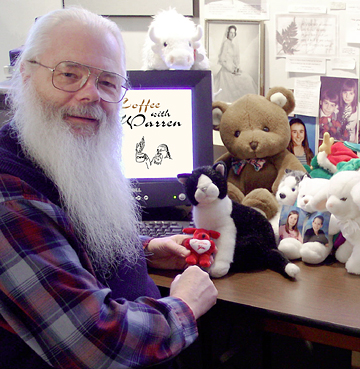 Warren pauses from writing this week's column while his cuddly crew of stuffed animals looks on.
---
Once when my grandchildren came for a visit, they asked my wife, Mary Anna, "How come Grandpa has all the stuffed animals?" Well, for this special Valentine's Day column I'd like to attempt an answer.
You see, I do have quite a few stuffed animals, and every one of them is a token of love and caring. There are several teddy bears, a lamb, a buffalo, a husky, a pair of hand puppets and other cuddly creatures.
Let me tell you the stories behind five of them.
Pooky is the biggest. The brown teddy bear was a gift from my goddaughter, Kateri. On the card that accompanied Pooky she wrote this heartwarming message: "When I'm not around to hug, you can hug Pooky." Kateri's away a lot these days, off to college, so I'm really glad to have Pooky keeping me company.
White Bear is just a cub but has a heart as big as the universe. A token of love from my grandchildren, Naomi and Thomas, he sits on my desk warmly embracing photos of the two kids so they'll always know how much I love them.
There's also Tatanga Thkan, a beautiful white buffalo given me by my son James and his wife Aina. Back in 1967 the late Jacob and Mary House, Stoney Nakoda elders who treated me like a son, gave me that name which means "White Buffalo". James and Aina, knowing how much it meant to me, wanted me never to forget what a powerful symbol of hope the white buffalo is.
Boots Jr. is a black and white stuffed cat with an intriguing story that links hearts with hearts across an entire continent.
About a decade ago my sister Florence was in the last stages of cancer in Phoenix, Ariz. Thanks to the wonderful care provided by Hospice, she was able to remain at home. One of the joys of her life was her cat Boots. But because Boots was so big and heavy and Florence was so weak, Boots was no longer allowed to climb up on the bed with her.
A week before Florence passed away, I thought I'd send her an order of cut flowers. I phoned the number for the florist not far from where she lived. Surprisingly, a woman in New Jersey answered. She handled orders for the Phoenix florist, she said. I mentioned my sister's health and ordered the cut flowers. And oh, I added, could the florist put them in a vase with a picture of a cat on the outside? It would mean so much to her, I explained.
A few hours later my niece phoned from Phoenix to tell me the flowers had arrived and that Florence was overjoyed with the stuffed cat that came leashed to the vase. It was the spitting image of Boots, she said, only much smaller and lighter. Florence could actually hold "Boots Jr." in her arms!
It seems the florist did not have a vase with a picture of a cat on it. Between the woman in New Jersey who took my order and the florist in Phoenix who filled it – both, no doubt, working near minimum wage – they substituted an even-more-meaningful expression of love. Amazingly, I'd never told the woman in New Jersey what Florence's cat Boots looked like.
Boots Jr. sits near my computer now, a constant reminder both of my sister and of two clerks who went the extra mile to bring happiness to a total stranger.
Then there's No Name, a palm-sized bright red puppy with black nose and eyes. No Name, a Valentine's gift from Mary Anna last year, is watching over me right now as I write. Between his forepaws my floppy-eared buddy is holding a white heart on which is embroidered: "I Love You."
And I love you, too, Mary Anna. Happy Valentine's Day!
© 2005 Warren Harbeck
JoinMe@coffeewithwarren.com